Happy Thanksgiving! Today is my favorite holiday of the year! It always reminds me of the things I'm grateful for...
Though I'm sure you'd be thrilled to read an extensive list of things I'm blessed with this year (my mother's cooking, my family, friends, Luxury Shoe Club), I thought I'd share the shoes I appreciate most this season.
And to be specific, I'm not talking about any shoes, I'm talking about Jimmy Choos! So let's take a look at the ones I'm thankful for highlighted in my blogs this past year. (BTW - Like how I dressed up my Turkey today?)
These Boots Are Made For Walking
In case you missed my past blog posts, here's a culmination of styles that Jimmy Choo has effortlessly pulled off. To start, these Toni 100 Suede Over-the-Knee boots are currently trending big time. Though they also come in black, I think the brown suede is the perfect color to match the changing leaves (just like your favorite home-made gravy mashed potatoes today!)

Spooky Designer Shoes From Halloween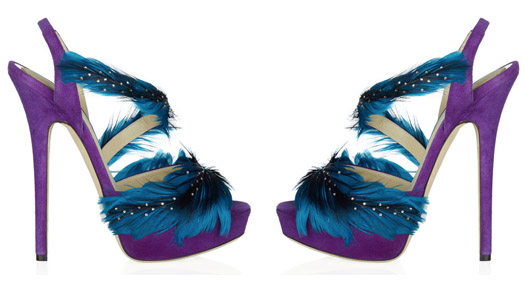 Truth be told, I had a harder time finding spooky Jimmy Choos because the brand often seems that it can do no wrong. However, the 2011 Marlene Feather Platform Sandals seemed to fit right along the lines with my peacock costume this past Halloween. I'm sure these feathers provide all the warmth you need as the temperatures drop!
Designer Sneakers... The Newest Trend?
My most recent blog post featured a pair of tan high-tops, so I decided to show off another sneaker success. The Tokyo Metallic Mesh High-Tops look like they could be a modern take on Cinderella's glass slipper, and are an easy way to accentuate your outfit in the most comfortable way possible! (These are about as good as my mom's homemade pumpkin pie!)
And Today... I'm Most Thankful For These!
I love, love, love my Anouk Black Laser Cut Pumps! They on my heart at first sight (and worth EVERY penny I paid for them). They're the perfect combination of edgy and elegant, much like me most days of the year ;). What a beautiful shoe!
So today as you enjoy a delicious meal and one or two libations, let's remind ourselves to also be grateful for Jimmy Choo. Happy Thanksgiving everyone! Enjoy this day with your friends, family and loved ones. And of course, get ready... Tomorrow the holiday shoe shopping begins!!!
With love,